Comparing Different Methods For Digging Trenches
This article explains how to dig trenches by hand and using a trencher. We will start with basic vocabulary and then guidelines to follow.
Basic Vocabulary:
Main irrigation line– the pipe that runs from your service line to your valve manifolds.
Lateral lines– the lines that run from the valve manifolds to the sprinkler heads. To get the pipe into the ground, you have the choice of digging trenches or pulling the pipe.

Guidelines To Follow:
Digging can be done by hand or with a trencher, such as a DitchWich. Both of these methods will allow you to install the pipe and then the low-voltage cable wire.
Your trench will need to be 6 to 10 inches deep. Make the main trench first, then add the branch lines.
Although it will require more work up front, a deeper hole will make the job easier by providing more room to work with your fittings
Dig Trenches By Hand: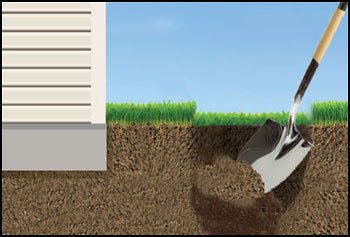 To soften the soil, water the ground approximately two days before you dig.
Dig trenches 8 to 12 inches deep. Put sod on one side of the trench and soil on the other.
Note: Before digging any trenches, you must have all underground utilities marked to avoid any damage. Call your local underground locator service or the city for information.
Using A Trencher to Dig Trenches: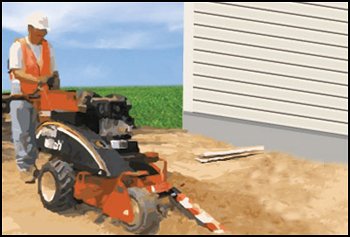 Trenching machines are an easier, faster alternate to digging with a shovel. They can be rented by the hour, day or week, usually from a lawn supply store or rental equipment dealer.
The person you rent from can show you how to operate the machine properly and safely.
Trenchers should not be used to dig through ground cover , flower beds, on steep slopes or near buildings.
Be sure to verify all underground utilities before trenching. In colder climates a vibratory plow is used for pulling pipe.