HOW TO INSTALL IRRIGATION STATION MODULES
You can install optional modules in any open position in the modular irrigation controller cabinet. The valve numbers associated with each terminal (e.g. 5, 6, and 7) are on the cabinet.
Open the front panel and then locate an open slot in the cabinet.

Make sure the lever on the module is in the unlocked position (pointing to the left). And then place the module in the slot between the plastic rails.



Push the module toward the top of the cabinet. Then slide the lever to the locked position (to the right).

Rewire your zone leads and you are finished!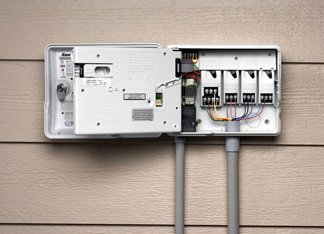 HOW TO REMOVE STATION MODULES
To remove a module, slide the lever to the unlocked position. Then pull the module out of the slot.