Contractors Are Cashing In On Christmas Light Installation
Landscape contractors are finding that offering professional Christmas light installation is a great service for additional revenue. Considering that landscaping maintenance like mowing grass and trimming trees slows down after Fall, landscape contractors need creative ways to increase revenue during the slow season. Christmas light installation for residential and commercial properties requires a similar level of manpower, tools, and supplies. Customers looking to avoid setting up their own holiday displays are more than happy to outsource the chore as well.

Landscape Contractors Are Hanging Christmas Lights To Increase Revenue During Winter Months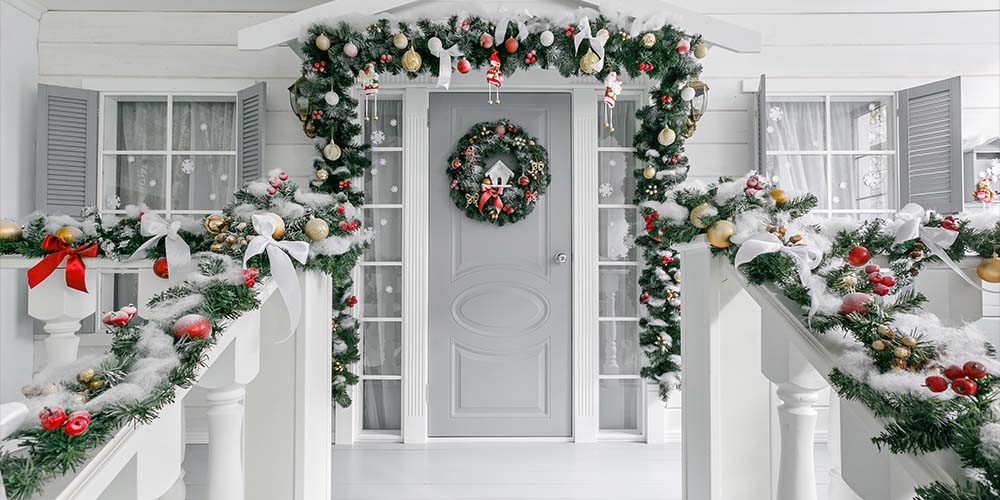 You've probably seen signs for professional Christmas light installation appearing around your neighborhood around the beginning of October. Landscape contractors recognize that the Chrismas light installation business model has some parallel qualities as their main line of work. They are already working in residential neighborhoods so it's convenient to place a few signs advertising their Christmas light installation service. Having a list of landscaping clients also gives them an advantage because of the trust homeowners already have in them.
Who Is The Target Market For Professional Christmas Light Installation?
Homeowners who already pay for landscaping services are likely to also want professional Christmas light installation. Hanging Christmas lights takes time away from a homeowner's already busy schedule. Having holiday lighting taken care of frees up time and eliminates stress from a hectic schedule.
Businesses with brick and mortar locations are also prime candidates to work with your Christmas lighting installation service. Most businesses do not have the manpower or supplies needed to install their own professional outdoor Christmas lights. By providing lighting installation service to a business, you remove the risk of their employees falling or being otherwise injured on company property. Businesses also tend to have larger budgets to dedicate to Christmas lights and will call on your company year after year.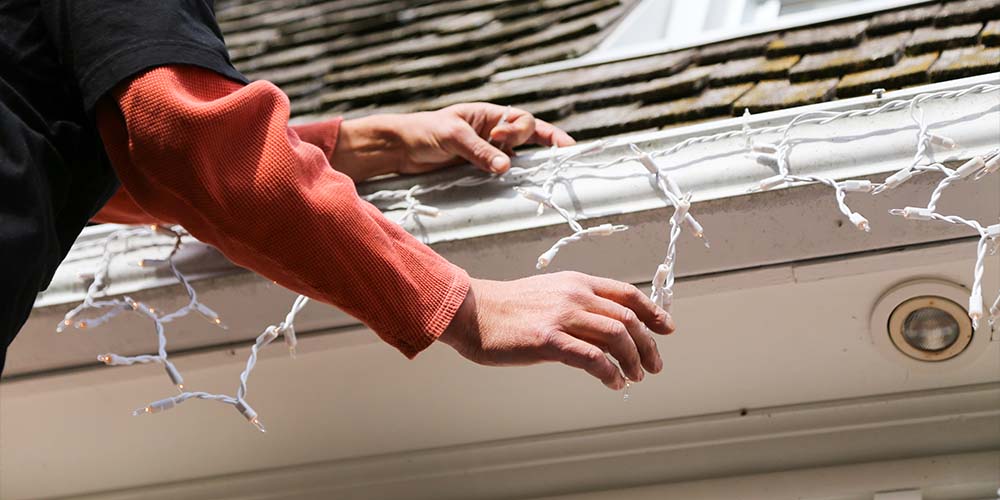 Commercial Businesses Have A Bigger Budget To Spend On Professional Christmas Light Installation
Older homeowners seeking residential Christmas light installation will also appreciate outsourcing the labor and climbing to the top of a 2-story ladder. Climbing ladders while wielding extension cords many will find is better left to professionals. A landscaping contractor's customer base already knows they are a good company that does a great job at taking care of their trees. This makes it a perfect opportunity for the contractor to mention they are a professional installation company that can provide custom design Christmas decor and lighting solutions.
How Can I Start A Christmas Light Installation Business?
When you're ready to learn how to start your own Christmas light installation business, you will need to take into account the time and upfront costs that will be associated with getting started. You will need to consider how many hands you need for hanging lights, then divide by two and that is how many people you will need on your crew. You may want to offer free estimates and on-site design consultation.
Contractors With A Crew, Truck, Ladders & Tools Find Low Barriers To Entry For Lighting Installation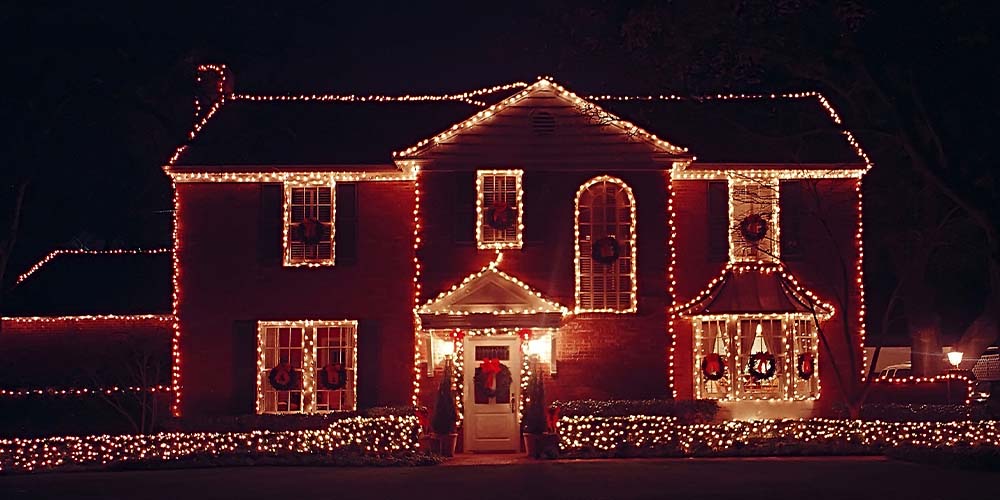 You will want to make sure your Christmas light installer has the proper insurance for themselves and for customers' property in case there is an accident. A well-thought-out plan can help keep your business' budget and spending on track. Keep in mind you will need to transport your crew, supplies, and tools to your customer's house. You will also want to account for unexpected weather conditions that may cancel whole workdays. The earlier you start planning your holiday lighting installation business plan, the better equipped you will be for a successful season.
How Landscape Contractors Are Making Money Installing Christmas Lights
Landscape contractors are starting to offer Christmas light installation as an add-on service to existing and new customers to fill in the gaps during their off-season. While professional installation equipment for holiday displays will certainly have an upfront cost, the payoff will come when the same lights are able to be reused season after season. A professional Christmas light installer will want to buy the best Christmas lights and installation equipment for the most profit over time.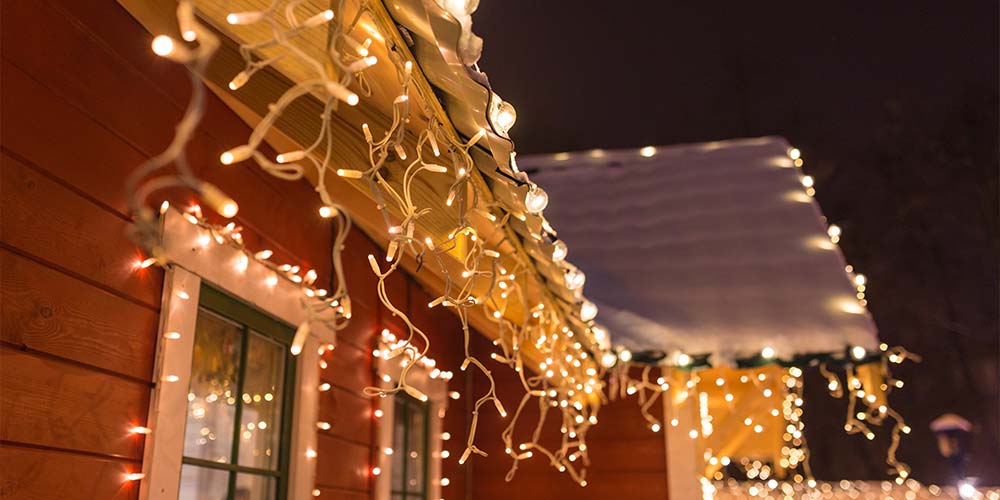 Pro-Grade String Lights Will Increase Return On Investment By Reducing Mid-Season Fixes
Regular maintenance will also help extend the life of quality bulbs, garland, and extension cords. Proper storage is an important factor as well. Because most landscape contractors already have a truck, ladders, and a well-insured crew, there are relatively few barriers to entry to starting a Christmas light installation business. Don't be tempted to cut corners on the lights themselves. Take into account the cost and hassle of returning to a residence with a failed string of Christmas lights trimming their roof.
How Much Can Christmas Light Installers Charge Customers?
Christmas light installers can charge a base fee for a holiday light package, the add an extra charge for decorations or custom lighting services. An extra charge can be added for second or third-story roof trim lighting. Lighting service companies may want to offer a few varieties of bulb sizes including C7, C9, or 5mm Christmas string lights at different price points. Contractors should remind customers that their Christmas light installation cost also includes a crew returning after the season to remove the decorations.
Offer A Variety Of Packages To Accommodate A Range Of Customer Budgets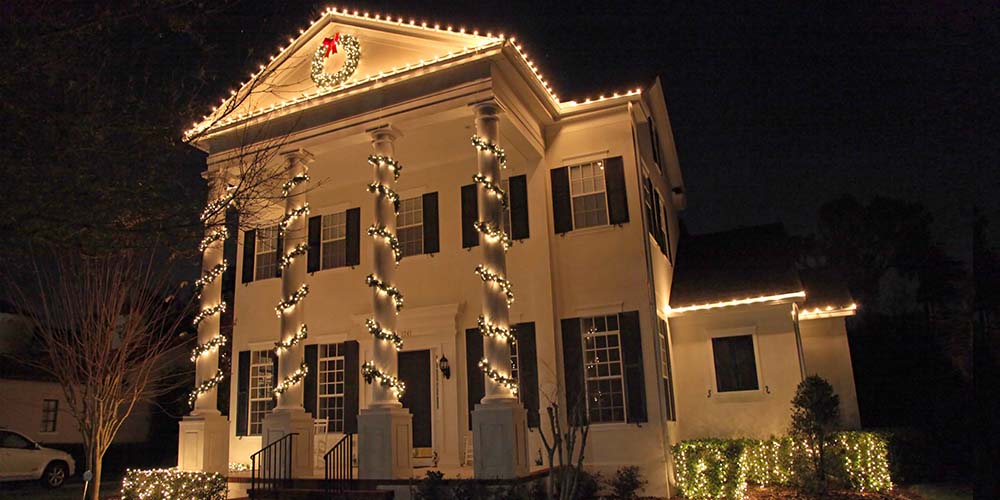 Some Christmas light installation businesses are choosing to work with a franchise. There are some benefits of working with a franchise potentially including marketing assistance, referrals, and professional-grade installation equipment as well as access to better insurance plans. Do some research to see what the possible benefits could include in your service area, but keep in mind there are plenty of independent contractors who are seeing generous returns on investing in their own Christmas light installation business.
Ongoing Expenses You Should Consider Before Starting A Christmas Light Installation Business
What are the ongoing expenses to account for when starting a Christmas light installation company? Other than the initial start-up cost of buying Christmas lights and extension cords, there will be more costs over the year that you may not have thought about. You will need a place to store the Christmas lights during the rest of the year. Outside of the holiday season, the Christmas light strings will need to be properly organized in storage with the right conditions to preserve the integrity of the cords and bulbs.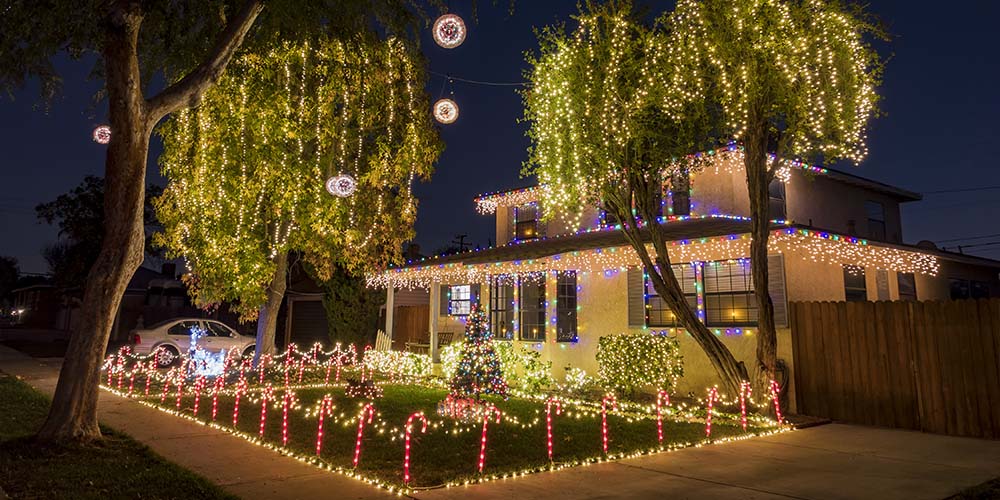 Selling Christmas Lights To Customers Can Reduce Storage Costs And Increase Customer Retention
Holiday decorating supplies will provide a better return on investment when given proper maintenance throughout the off-season. Nothing will ruin your holiday spirit like pulling out a tangled mess or broken bulb the following season. These are all costs that should be taken into account and factored into your quote for customers. A lighting installation service company should take great pride in the quality of materials they have chosen to offer and preserve them as best they can.
When Do Christmas Light Installers Start Setting Up Displays For Customers?
Thanksgiving is the most popular day to turn on Christmas lights. A Christmas light installer will want to start advertising their services around mid-fall. It will take time to install a professional holiday light display and you won't be able to get to everyone's home without allowing enough time beforehand. Consider how many lighting projects you have lined up, then count backward how many days of labor will be required from Thanksgiving.
Allow Enough Time To Complete Holiday Light Displays By Thanksgiving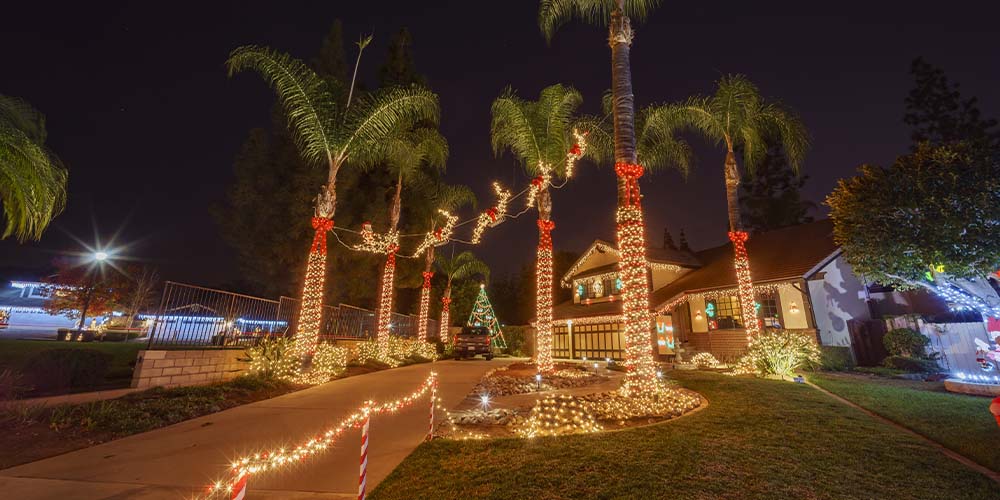 The reason Thanksgiving is the most popular day to turn on Christmas lights is that many homeowners are hosting extended family for the holiday. Homeowners want their family and friends to gather on the holiday and take in the spectacle that their grand holiday light display provides. In some neighborhoods, there may be HOA(homeowner association) restrictions that dictate what day holiday lights are allowed to be turned on. Make sure your customers are aware of any restrictions in their area. A timer to control when the lights come on and turn off can also be an additional charge. A timer for the light display gives customers one less thing to worry about during the holiday season.
How Much Profit Can A Christmas Light Installation Business Make?
Profitable Christmas light installation companies have detailed budgets and marketing plans. The key to profitability for professional installers is investing in quality materials that will last many seasons to increase their return exponentially. Providing great service with respect for a homeowner's time and property will result in more word of mouth referrals which also fuel profits over the year.
Another way to increase profits is to sell the lights to the customer. This will reduce the company's storage and maintenance costs. This can also encourage a homeowner to continue to work with your company year after year. You can leave a tag on the end of the Christmas string lights for quick reference or provide a branded storage container.
Important Safety Measures For Christmas Light Installers
Christmas lights are great for bringing holiday joy but there are still safety concerns to be aware of. The risks of injury to people or property stem from the lights themselves and from the hanging and removing of the lights. Always use caution and encourage safety best practices for your crew. Choosing professional-grade LED Christmas string lights is one way to reduce the risk of fire. Because LED lights do not produce as much heat as traditional incandescents, the risk of burning is greatly reduced. Always replace broken, cracked, or otherwise damaged bulbs before plugging them in.
Carefully examine extension cords and any other electrical wires used in holiday lighting displays. Don't risk anyone's safety with faulty electrical wires. It is worth the cost to replace them immediately and with the highest quality available. Check wattage and manufacturer's warnings about how many strings of lights can be daisy-chained together. Then make sure that the outlets are well maintained and designed to handle the amount of demand placed on them. Use circuit breakers at each outlet.
How To Safely Install Outdoor Christmas Lights On Trees
One of the reasons a landscape contractor can easily add professional Christmas light installation to their list of services is because of the tree guys. A Certified Arborist or professional tree worker is accustomed to climbing tall ladders with dangerous equipment strapped to them. They are a special breed, to say the least, but tree guys can be your best asset on a Christmas light installation crew. They know the territory and won't flinch at climbing fifty feet in the air to make sure the holiday spirit is seen from the next block over.
Invest in the best safety equipment available to keep your tree guy safe and he will be a valued member of your Christmas light installation crew. Keeping your tree guy safe will also ensure he is in tip-top share when it's time to trim your customer's trees next season as well. Specialty tree climbing gear like spurs, rigging harnesses, and a lifeline should all be handled with respect and only by trained professionals. Keep detailed records of your professional tree worker's licenses and certifications to prevent any conflicts.
How Much Does It Cost To Have Christmas Lights Installed?
You will often hear the question, "How much does it cost to have my Christmas lights professionally installed?" There are several factors to take into account to formulate an accurate answer to this question. Does the customer have their own string lights already? Do they need to be hung on a second-floor roofline or a very tall tree? Remember to take into account that they will expect the lights to be taken down in January as well.
It is a good idea to visit the property to give a free estimate and design consultation prior to throwing out a number. Some professional Christmas light installers have base costs to cover transportation and crew wages. You might decide to offer a variety of packages based on the types of bulbs used or the density of light bulbs.
Shop Professional Grade Christmas Lights For Your Installation Company At Sprinkler Warehouse
We carry a full line of commercial-grade LED Christmas lights that will make your company's installation shine brighter than the competition. The LED Christmas light bulbs we carry have more light-emitting diodes than standard string lights so they really are brighter. Whether you're looking for C7, C9, or 5mm LED bulbs, we have them in stock and ready to ship. Our Christmas light bulbs come in faceted or smooth finished with thicker bulbs for more durability.