If you are shopping for Christmas decor, then you might have seen LED Christmas string lights and wonder if you should make the switch from incandescent to LED. The acronym LED stands for Light Emitting Diode and it is currently the most efficient way of producing light. It produces the brightest light with the least amount of energy because it wastes less energy in the form of heat.
The old method of lighting with the incandescent bulb involved running electricity through a wire to heat it so much that it became "white-hot" and produced light. The problem is that most of that energy is being lost to heat, which does not do any good if you are using it as an outdoor lighting display.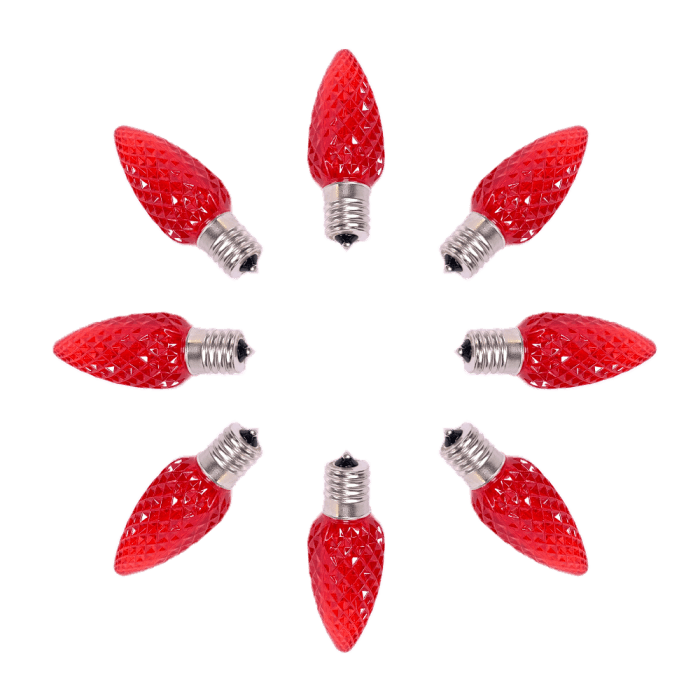 C9 LED Replacement Christmas Bulb Faceted Transparent Red
Why Choose LED Christmas Lights Instead Of Incandescent?
Today, there are different methods of producing light including halogen lights, fluorescent lights, and the most efficient, the LED. Each lighting type was designed to be more efficient than the incandescent bulb by reducing the amount of energy lost in the form of heat. Although halogen and fluorescent lights are more efficient than incandescent bulbs, they still require heating of elements in order to create light which reduces their efficiency.
LED light bulbs work by having a diode emit light almost exclusively. For this reason, they have the lowest amount of heat loss and are on average 90% more efficient than the traditional incandescent bulb. This makes them a great candidate when dealing with lighting displays that require a large number of light bulbs such as Christmas lighting.
Whether looking at outdoor Christmas lights or lights for your Christmas trees, a typical display will have multiple light bulbs drawing energy and multiplying your energy expenditure. Incandescent lights can make this a much greater number than it would be using led lights.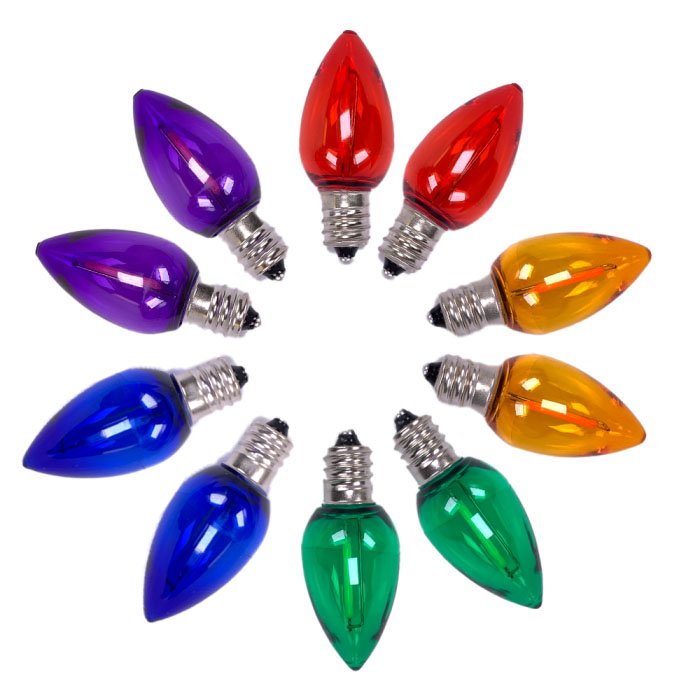 C7 LED Replacement Bulbs In Smooth Multi-Color
What Are The Benefits Of LED Xmas Lighting? Money, Quality, and Safety
The benefits of outdoor LED lighting include saving money, a longer lifespan, and a safer bulb that stays cool to the touch compared to incandescent lights. The versatility of LED lights allows them to be available in a variety of Christmas light styles such as mini led lights, led light strings, outdoor Christmas lights, and Christmas tree lights
Choosing LED Christmas Lights Will Save You Money On Electricity Cost And Replacement Bulbs
Choosing to hang Christmas lights with LED bulbs might seem like a costly option at first. However, since LED bulbs are losing less energy in the form of heat they cost less to run, saving you money on the light bill. For example, with Christmas around the corner, it might be beneficial to upgrade your decade-old incandescent string lights and switch to an energy-efficient LED string light instead. Let's look at the numbers.
With a set of incandescent C9 light strings, the average wattage is 7 watts per bulb. A setup of 100 incandescent lights would cost about $28.00 to purchase. Running them 12 hours a night at $0.12 per Kilo-Watt Hour would cost $30.24 per month to operate those lights. Compare this to our C9 LED Replacement bulbs that run at 0.8 watts. A 100 light setup would cost about $144 to purchase however, the same run time would only cost $3.46 per month. With almost 90% savings the LED bulbs will cover the difference in price over the course of about 4 seasons.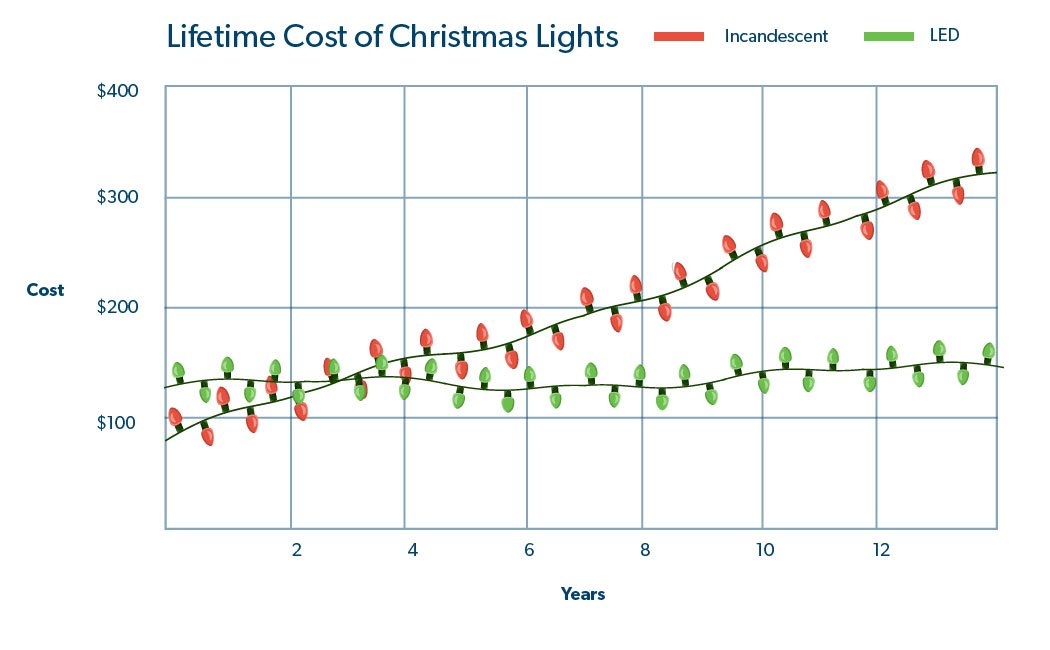 A Longer Lifespan Saves Money On Replacement LED Christmas Light Bulbs
On top of saving you money, the reduced heat production means that the LED light bulb will not burn out as quickly and will last much longer than the incandescent bulb. The C9 LED Christmas lights we offer, have a 50,000-hour life span. The C7 LED bulbs, as well as the mini-LED Christmas lights, are rated for a 60,000-hour life span. If you were to run them 10 hours a night for the entire 3 months of the winter season they would last 50 years. Even at the end of their lifespan, LED lights still turn on. This is because the "lifespan" is calculated as the time that it takes for the LED bulb to lose 30% of its brightness
LED String Lights Are A Safer Option And Reduce The Risk Of Fire
Another plus is that since LED lights require so little energy to run that means you can string more of them together to run from the same outlet than you can with traditional incandescent bulbs. This makes it easier to set up your light display for Christmas and gives you more flexibility.
Another overlooked benefit of LED lights is that their reduced heat production makes them safer to run. A lower operating temperature means that they are less prone to starting fires, especially when using our mini LED Christmas lights on your natural Christmas tree. It also means that you don't have to worry about waiting for the bulbs to cool down to handle them, making it easy to change positioning on the fly. Protect yourself and your family this holiday season with low-temperature LED Christmas lights.
Browse Our Selection Of Professional Grade LED Christmas Lights
With reduced energy costs, a longer lifespan, and a cooler overall temperature there is no reason not to make the switch to LED Christmas lights. Sprinkler Warehouse carries the highest quality LED string lights on the market. They are designed with more durable materials and the bulbs shine brighter than those found in your local big-box retail store. We have all 5mm, C7, and C9 LED Christmas lights in stock and ready to ship today.