How Impact Rotors Work
This article explains what impact rotors are, how they works and where you can purchase them. Which came first: the lawn sprinkler or rain? Well, rain. Then lawn sprinklers. Well, no, I guess flooding and then maybe ditch irrigation and then someone poured water from a pot onto plants and never mind. I'll just skip ahead.
A Brief History: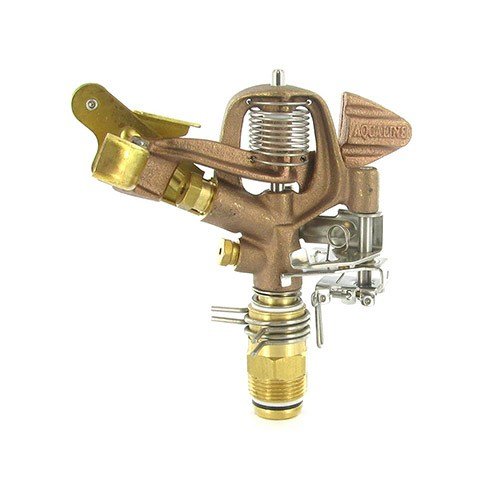 The impact rotor sprinkler was the first successful, efficient area sprinkler developed. The original design came about in 1933 from a farmer looking for a more efficient way to irrigate his citrus crop. Pouring water out of a pot just wasn't doing it. It would not be an exaggeration to say this sprinkler revolutionized agricultural irrigation and is still an integral part of irrigation today.
One of the indicators of a good design is to look at how much something has changed through the years. A 1925 pickup had a drop tail gate, stake pockets, leaf springs, and was available with an 8′ bed and 1 ton rating. Sounds a lot like current pickups. If you saw the first impact sprinkler you would see that the design has changed little through the years. Arm still swings, it still rotates and it is still dependable. It would work fine today.
When Do Impact Rotors Work Best?
Impact rotors work best on large, open areas. Typical operating distances are from a low of 20′ up to 65′ in the residential applications and over 100′ in commercial uses. They provide consistent, dependable coverage with little maintenance required. Most give you rotation settings of a partial circle from 20° – 340° or full 360° coverage.
What are the main advantages? There are a couple and they are important. The first is that the water path is uninterrupted. On standard, non-popup, rotors it doesn't go through any filters or screens; it flows through just like the water from the end of a hose. This means the impact sprinkler is far less susceptible to clogging from debris. It also means there is very little risk of damage from grit and sand in the system. It just blows out.
About The Exposed Operating System:
The second is the exposed operating mechanism. With more modern design popup rotors there is an internal gear drive mechanism. This is vulnerable to dirt or debris in the water and can cause the rotor to stop turning. At this point the rotor must be disassembled to clean. With the drive mechanism of the impact being 100% external and with no gears to worry about, the durability and long term performance of the unit is greatly enhanced.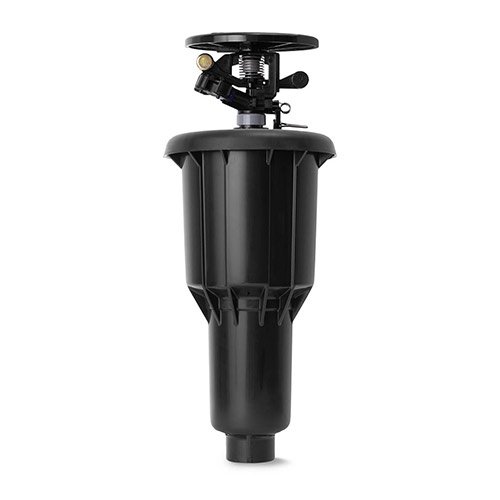 One objection to impact sprinklers was their high visibility even when not being used. The Rain Bird Maxi-Paw acts as a pop-up, disappearing when not in use. It gives you the benefits of an impact rotor with the visual appeal of disappearing pop-up. One big advantage of these is you can use them to efficiently water a park or public area yet avoid trip hazards.
Impact sprinklers are thought by some to be 'old technology.' After all, numerous new and different irrigation products have come along since. Well, hammers are pretty old technology and no one hesitates to use them. Old doesn't mean useless. The technology might be old but the usefulness and efficiency has increased through the years. With different sizes, replaceable nozzles, pop-up designs and water saving features the impact rotor looks to be around for a long time. It just works.