How To Choose A Residential Or Light Commercial Controller
Which Hunter Controller Is Right For Your Irrigation System?
In this video Sprinkler Warehouse Pro Dwayne Smith breaks down your choices for residential and light commercial controllers from Hunter Industries.
Browse Our Selection of Residential And Light Commercial Irrigation Controllers Available at SprinklerWarehouse.com
Hunter has a lot of controllers to choose from. So in this video, we're going to break down your choices for residential and light commercial controllers. Then you can decide which one's right for your sprinkler system.
I'm Dwayne Smith, your Sprinkler Warehouse Product Specialist. Let's get started.
Why Choose A Fixed Or Modular Sprinkler Controller?
So let's narrow down those choices, shall we? The most important point would be to get a controller with enough zones. It's a good idea to choose something with at least a couple more zones available than you currently need in case you need to expand your sprinkler system or split up a zone in the future. Controllers are either fixed stations or modular.
A fixed controller means you cannot add stations to the controller whereas modular controllers can be expanded by adding modules. One of the benefits for contractors utilizing a modular controller is that you don't have to carry a 4 stations and 6 stations and 12 stations controller etc. You can just carry the base model controllers and the modules, which are really small, and then build the system to the customer's needs.
Irrigation Controller Sensor Input
All of these controllers that we'll discuss today have at least one sensor input. Sensor inputs allow you to attach a rain sensor, rain and freeze sensor, wind sensor, or moisture sensor.
Do You Want A Flow Meter?
(Also called a flow sensor.) Flow meters monitor your water usage and alert the system if there's an issue. Flow meters can potentially save you serious money by alerting you to a leak or a faulty valve.
Another Question, Do You Want A Smart Controller?
Smart controllers made by Hunter Industries use Hydrawise technology. Hydrawise is software that allows you to manage your irrigation system remotely. It's designed to give you complete control and save water. It includes the ability to use your smartphone, tablet, or the web to manage your system from anywhere. It features the ability to adjust the system based on local weather conditions and gives many monitoring options to protect your landscape and alert you quickly of any issues. All Hydrowise controllers are wifi enabled and are touch screen operated. And all are compatible with the HC flow meter. We'll begin our tour of the Hunter controllers by starting with different models of Hydrawise controllers.
The HC Seried Indoor Irrigation Controllers
The HC series is an indoor controller. It comes in a 6 station model which is not expandable and a 12 station model which is expandable to 24 or 36 stations using expansion modules. Each expansion module adds 12 zones. Because of the compact nature of the HC controller, I'd recommend only using it with 18 gauge multi-strand wire. There's not much room here to try to attach 16 gauge or larger direct burial wire. The HC models include 2 sensor inputs.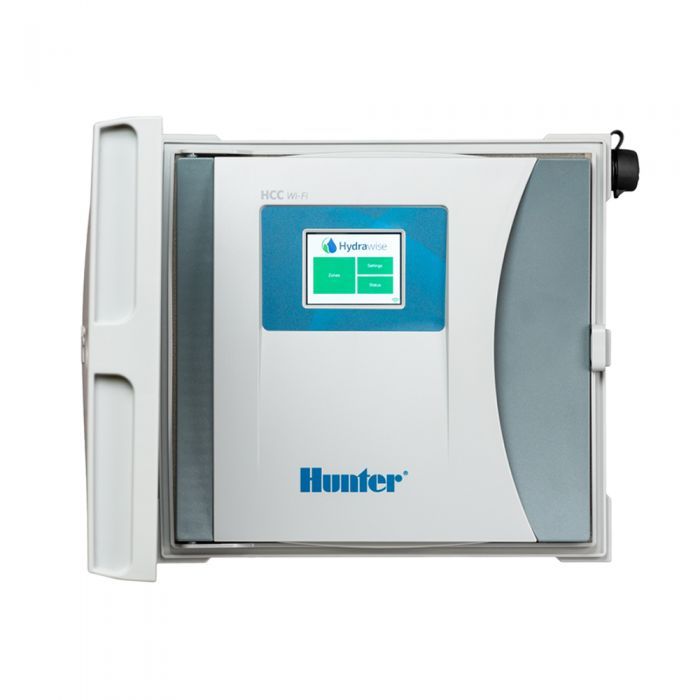 Hunter HCC 8 Station WIFI Indoor/Outdoor Controller With Sensor Compatibility
The Pro-HC Controllers Come In Indoor Or Outdoor Models
Another set of Hydrowise controllers are the Pro-HC Controllers. The Pro HCs include both indoor and outdoor models. The outdoor models have a case that includes a lock. The indoor models forgo the lock. The Pro HC controllers are fixed station controllers. They come in 6, 12, and 24 station versions. The Pro HC controllers have quite a bit more room so that you can use 16 gauge wire. And they also have two sensor inputs.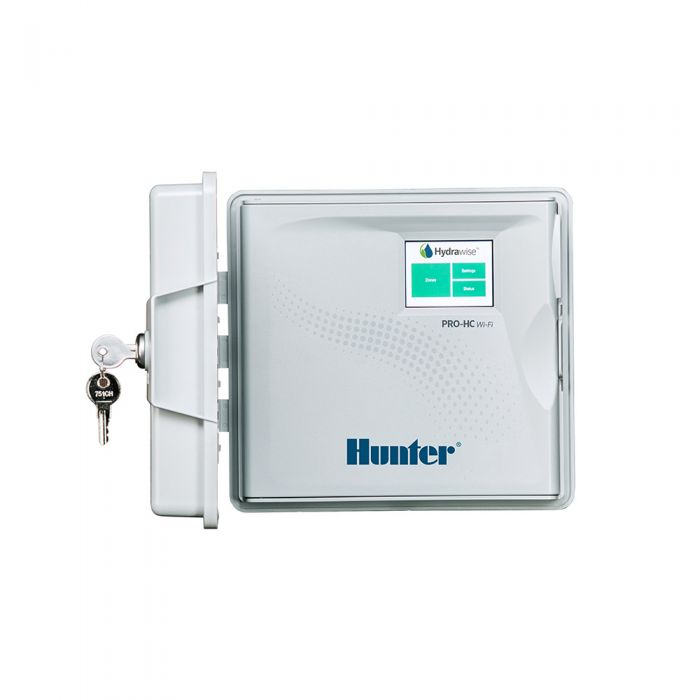 Hunter Pro-HC 12-Station WIFI Indoor/Outdoor Controller
The Pro-C Hydrawise Controller Series Is Modular
The Pro-C Hydrawise series are indoor/outdoor controllers. And they're modular. The base model has four stations and can go up to 16 stations. Modules include a 3 station module, the PCM 300, and a 9 station module, the PCM-900. The Pro C has just one sensor input. And the PRO-Cs are compatible with ROAM and ROAM XL remotes.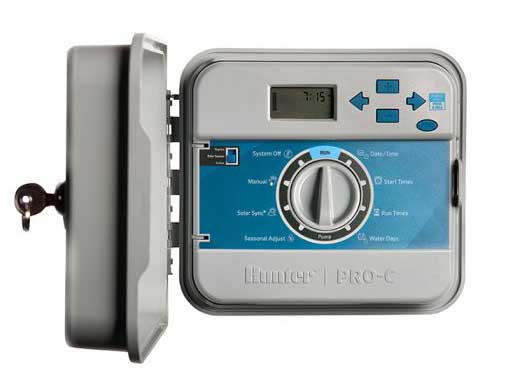 Hunter Pro-C Modular 4-Station Indoor/Outdoor Controller
Irrigation Controllers With Solar Sync Technology
Now the following controllers do not have Hydrawise technology. But they are, however, compatible with Solar Sync. Solar sync is a mini weather station that monitors, rain, temperature, and sunlight to adjust watering accordingly. It can save a substantial amount of water by shutting off when it's raining, but also decreasing watering times when there's less sunlight and lower temperatures. Additionally, all the following controllers are compatible with Roam and Roam XL remotes.
The X-Core Series Controllers
The X-Core series are fixed station controllers that come in 2, 4, 6, and 8 station models. There are indoor and outdoor versions of this controller. The X-Cores do have one sensor input but are not compatible with flow sensors.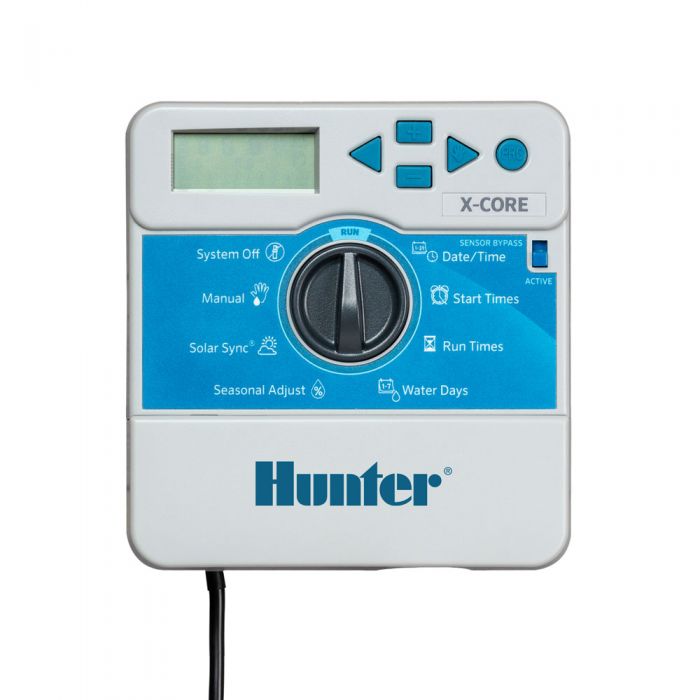 Hunter X-CORE 6 Station Indoor Controller With Seasonal Adjustment To Adjust All Station Run Times Easily
The Pro-C Series Modular Controllers
Not the same as the Pro-C Hydrawise series that we spoke about earlier. The Pro-C series are Modular controllers. The base model has 4 stations and can be expanded up to 16 stations. The expansion modules available are the PCM-300 which adds 3 stations and the PCM-900 which adds 9 stations. The Pro-Cs have one sensor input but are not compatible with flow sensors.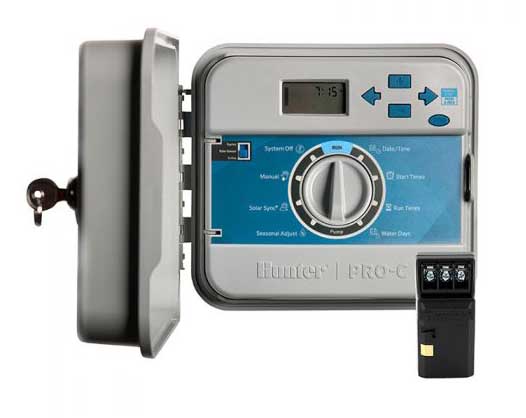 Hunter Pro-C Modular 7 Station Indoor/Outdoor Controller
The Hunter PCC Series Sprinkler System Controller
The PCC series controllers are pretty similar to the ProC series but the PCCs are fixed stations and come as a 6 or 12 station model. There are both indoor and outdoor models available. The PCCs have 1 sensor input available and are also not compatible with flow sensors.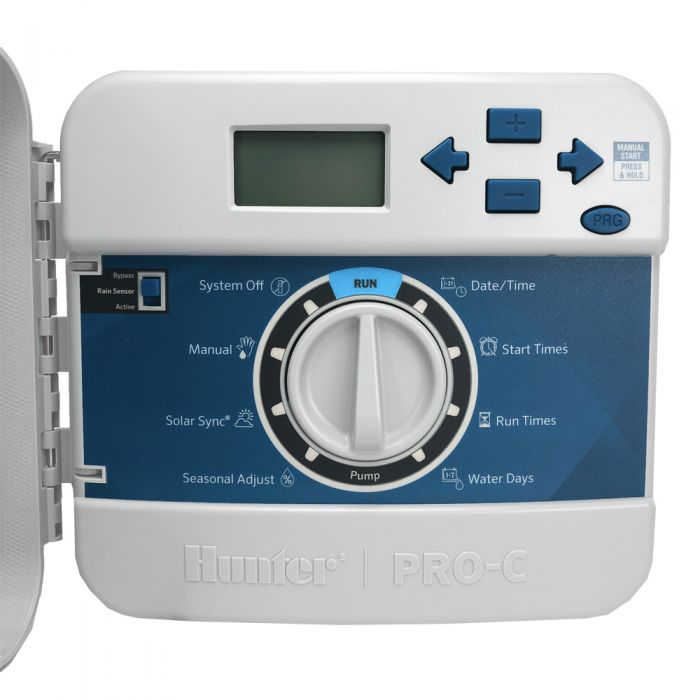 Hunter PCC 12 Station Indoor Controller
I hope this helps you narrow down your choices. Purchase your Hunter controllers today on Sprinkler Warehouse.com.
Watch more videos like this one and learn about irrigation systems on our YouTube channel. Thanks for watching!