A Breakdown of an Essential Component
This article explains the importance of the irrigation valve in your sprinkler system. If the controller is the brains of your system the valves are the heart. They control the flow of water through the lines. They are very simple in both principle and design.
This is an example of a typical valve. Details may vary but the execution is the same: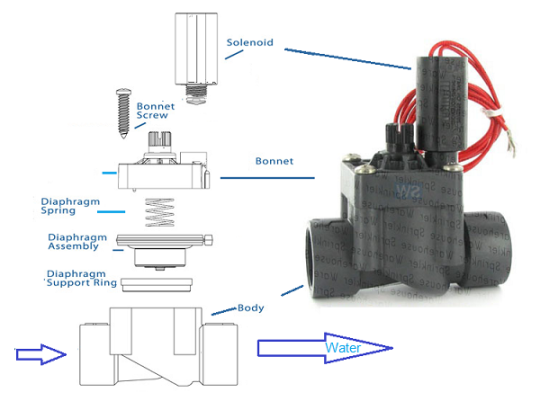 Valves have water both above and below the diaphragm. The upper chamber pressure is greater than the lower due to the combination of spring pressure and trapped water. They also have an air space under the solenoid with a bleed hole that is opened when the solenoid plunger is retracted (zone turned on).
Opening this hole lowers the pressure above the diaphragm, the water below forces the diaphragm up and water flows through. Most valves will not open with less than 15 to 20 pounds per square inch of pressure. This is only a concern with extremely low pressure; usually on gravity feed water tanks.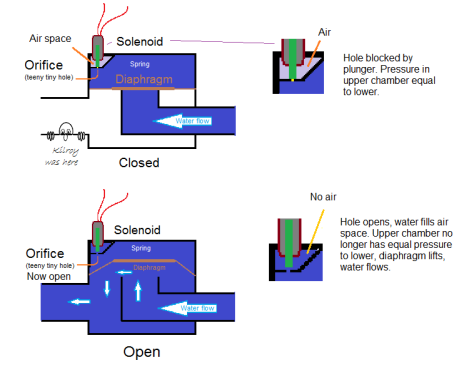 Picking a good valve is simple: stay with a name brand. After that, you have a few decisions to make. Most people use 1 valve. Simple reasons are they are the most economical, readily available, both new and parts, and provide the flow most residential and small commercial designs need. Even if your design calls for a ¾" valve use 1. It doesn't cost more and if you make changes or expansions in the future you won't be restricted by the smaller size. A 1″ valve will allow up to 25% more flow than a ¾" valve.
Flow Control:
The next choice is flow control. Flow control is a separate knob or screw on top of the valve and allows you to regulate the water going through the valve. In most cases, flow control is not necessary but it does have advantages. If a valve sticks open, one of the more common valve failures, the flow control allows you to force the valve closed. If your water pressure is low, either because of supply problems or overlapping valve operations, partially closing the flow control will help the valve close faster and more reliably. It's cheap insurance to have.
Valves fail in consistent ways. It may not close completely. This could be due to debris, the most common reason, or worn diaphragms. Check out FILTRATION for how to prevent debris. Diaphragms do wear and age, generally resulting in a tear in the diaphragm. Just replace. For a very short video on how to do a repair look at VALVE REPAIR. Valve bodies rarely fail unless suffering freeze damage or shovel hit.
Solenoids will fail overtime or the connections to the control box could have become corroded. Check the connections; make sure they are clean. For a simple way to test the solenoid:
Steps in Creating a Portable Valve Activator:
Take three 9-Volt Batteries
Connect in a series
Connect one valve wire to the negative pole
Then connect the other wire to the positive pole to activate the valve
If the solenoid is functioning properly, you should hear a click
For a more involved but very easy and thorough way to test the solenoid and all wiring look at "how to use a multimeter"