Which valve is best?
If you're not familiar with the various types of valves, selecting an irrigation valve can be overwhelming. This article will cover the basic valve types, how they're used, and give you a few tips.
Control Valves
Control valves turn a sprinkler system either on or off. It is possible to use manual valves. However, most modern systems have valves that connect to a controller for automatic operation. SprinklerWarehouse.com offers three different types of control valves: a globe valve, an angle valve, and an anti-siphon valve.
IMPORTANT: YOU MUST USE A BACKFLOW PREVENTER IN YOUR IRRIGATION SYSTEM IF YOU ARE USING GLOBE OR ANGLE VALVES. IF YOU PURCHASE AN ANTI-SIPHON VALVE, THE VALVE HAS BACKFLOW PREVENTION BUILT-IN AND A SEPARATE DEVICE IS UNNECESSARY.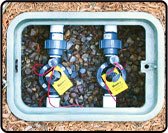 Emergency Valves
Always install emergency valves adjacent to your point of connection with the water supply. They allow you to do repair and maintenance on the mainline or irrigation valves without disrupting your home's water supply. There are two basic types for you to choose from: The Gate Valve and The Ball Valve. The Ball Valve is more expensive, but it typically lasts for longer periods of time.
Globe Valves
Commercial irrigation systems often use globe valves. It is typically installed beneath the ground, and to your convenience, is available in almost any size. They are relatively cheaper than the angle and anti-siphon valves. A backflow preventer MUST be bought or provided separately.
Angle Valves
Angle Valves are similar to Globe Valves but have an additional inlet at the base of the valve. This creates a 90-degree angle between the inlet and outlet pipes. This construction moderates the pressure drop that may occur across the valve. If this is indeed a concern for you, the angle valve is a better choice than the globe valve. Again, a backflow preventer MUST be bought or provided separately.
Anti-Siphon Valves
Anti-siphon valve has a backflow preventer built into the valve. You have to install anti-siphon valves above ground and they have to be at least 6″ higher than the highest sprinkler head. So if you use anti-siphon valves in your system, you must install them at the highest place in your yard.
Dirty Water Application Valves
If you work with water sources such as lakes, ponds, streams, or wells, you'll likely deal with "dirty" water. Dirt and debris from this kind of water can choke an irrigation system. Therefore picking the right equipment is vital. And nowhere is this more vital than in the selection of the correct remote-control valves.
When you select a remote-control valve for a dirty water application, make sure it has filtration features incorporated into the valve by the manufacturer. This is very important because not all valves have filters and the area on top of the valve diaphragm and the solenoid area is extremely susceptible to damage from fine particles of dirt and debris. The best method for filtration manufacturers employ to prevent dirt from contaminating the valve and interrupting operation is the "self-flushing" screen.
A filter or screen that is self-flushing prevents water containing dirt and debris from entering the top of the diaphragm and the solenoid. Located on the bottom of a valve's diaphragm or inserted into the side of the valve body with a tube connected to the base of the solenoid, the screen or filter is positioned in the stream of water running through the body of the valve. The water flow continuously flushes the filter screen, dislodging particles and debris before they can accumulate and clog the filter.
One manufacturer's valve, which is particularly effective in dirty water, is the Rain Bird series of scrubber valves. This series of unique valves have a scrubbing action, which occurs every time the valve opens and closes. The fingers of the plastic scrubber remove dirt and debris by scraping the stainless steel filter screen clean as it moves up and down with the diaphragm. The action constantly breaks down debris to prevent build-up and clogging.
General Precautions:
If a well or stream supplies your irrigation system water, you need to install a strainer upstream of the backflow preventer. This will increase the longevity of your valves.
If the water pressure coming from the meter or pump exceeds 60 psi, it may be necessary to install a pressure-reducing valve upstream from the backflow prevention device to reduce water hammer and valve wear. Also, consider installing a water hammer arrestor.
Unless following the manufacturer's instructions to the contrary, always turn the valve handle slowly to avoid a water hammer.
Only the manufacturer can honor a warranty. Therefore, the manufacturer's instructions prevail over everything except local authority.
Installation errors on backflow prevention devices aren't always obvious, but they're dangerous. Protect family and neighborhood from waterborne health hazards by paying close attention to installation details.
PVC pipe and fittings deteriorate in sunlight unless Schedule 80 is used. PVC is also less resistant than copper to damage by lawn equipment or other physical forces. When installing PVC above ground, pay particular attention to providing a well-built shelter.