Use Sunscreen As Much As Possible
Couple of safety issues to go over today. We want to keep our customers healthy and buying stuff.
Some people fry.
No sunburn. Sunburn = bad. Too much sunburn = cancer = really bad.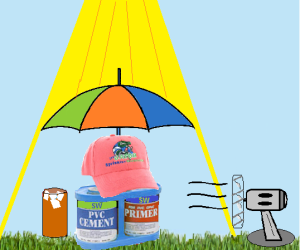 I'm not going to pretend to be an expert on sunscreen lotions. I do, however, know how to get a bad sunburn, if that helps. In researching this post I came across the expected advice and two more things I didn't know. So use sunscreen, stay in shade, cover your skin, etc.
First thing I didn't know: SPF probably doesn't mean exactly what you think and it's not really mathematical. The really high SPF ratings don't do what you would expect. Because he sums it up so eloquently, I'll quote Dr. James Spencer as reported on the very useful WebMD site.
SPF is not a consumer-friendly number, says Florida dermatologist and American Academy of Dermatology (AAD) spokesman James M. Spencer, MD. It is logical for someone to think that an SPF of 30 is twice as good as an SPF of 15, and so on, but that is not how it works.
According to Spencer, an SPF 15 product blocks about 94% of UVB rays, an SPF 30 product blocks 97% of UVB rays, and an SPF 45 product blocks about 98% of rays.
And now, the best technical summation I have ever read.
After that, it just gets silly, he says. (webmd.com: sunscreens)
The other thing I learned is that, while SPF 45 is not three times as good at SPF 15, many doctors still recommend it and higher but not because of the minor increase in efficiency. It seems most people do not apply sunscreen properly, usually applying far too thin a layer. By recommending higher SPF they hope to compensate for the fact we don't read instructions.
Oh, and wear a hat.
Some people melt.
If you don't count holes, snakes, saws, shovels, picks, trenchers, mud, sun, mosquitoes and PVC cutters then there are very few hazards in irrigation work. So let's forget those and look at primer and cement.
Working with PVC primer and cement is easy and quick. With any minor precautions at all it's pretty safe. Even with no precautions, it is hard to hurt yourself unless you try. Unfortunately, people seem to try all the time.
You should wear gloves. The primer not only stinks but it will help you find every cut and scrape on your hand and set them on fire. Do you really want that stuff going in an open wound? It also tends to dry out your skin and you lose that satiny smooth touch you've worked so hard for. Then you get the great fun of telling everyone why your hand is purple. The cement can take a day or two to come off and you look like you have Rigelian Fever.
The cement is really a solvent. It loves to melt plastic. Get some on your new eyeglasses and you'll need another pair. Get some on your contacts? Not only will your eye scream in pain but your contact is shot.
Keep cement and primer out of your eyes or your kids will hear those words they aren't supposed to say.
Now the serious part. Primer stinks. Badly. Primer vapors are bad for you. People will pour it on rags, hold it up to their nose and breathe deeply for a dumb and dangerous high. Dangerous and you end up with a purple nose telling everyone you are less than smart. Make sure you use primer in a well-ventilated area.
Most situations are low risk: the outdoor repair, the quick under sink fix, etc. The danger lies in lots of exposure in confined areas. You will stop smelling it. Your brain will think the nose is lying to it cuz' nothing can smell that bad that long. The brain stops registering the odor. You can stand there breathing in all the vapors without the built in alarm system your body started with. This is known as not good.
In 20+ years of working with primer and cement I've never known anyone to be harmed during routine use. I have seen people working in small closed rooms get dizzy from the fumes. It's neither fun nor funny.
Have lots of ventilation when gluing pipe. Outdoors is best.
The bright spot is if you are at risk of sunburn doing repairs it's not likely you are in a small closed room. Keep your hat on, use sunscreen.