When To Adjust Sprinkler Run Times
The article explains the importance of adjusting your sprinkler run times monthly. Spring is now officially here. While some of the United States is still putting up with snowstorms and harsh weather, many other parts of the country are beginning to see the lush green hues of plant life and a beautiful array of blooming flowers.
Finding That Sweet Spot, One Check At A Time
Here in Texas, warmth and humidity are starting to edge out the bleak and cold memories from the abnormally intense winter season we just endured. For those of us who have lawns and gardens to care for, it's time to put away the snow shovels, and sidewalk salt and get out those lawnmowers and gardening tools. It is also time to reset all the sprinkler controllers! That means resetting the watering times for each zone to the appropriate spring settings.
Not surprisingly, each year we receive questions from people asking, "How long should I let my sprinklers run?" "How often should I run my sprinkler system?" and "What is worse, too much water or too little?"
Understanding Watering Times
It's important to understand that your grass needs less water at the start of the season, a lot in the middle, and less toward the end. So it's appropriate to change the watering schedule each month during the summer months.
Seasonal Sprinkler Timing Charts & Calculations
The chart provided here is only a suggestion. Because the country is so large and diverse climatically and because of the wide variety of different grass types, you should consult your local nursery or watering authority to find out what is best for your needs. Many manufacturers provide calculators to help, like this one by Rain Bird. Click here to learn more about adjusting your watering schedule by season.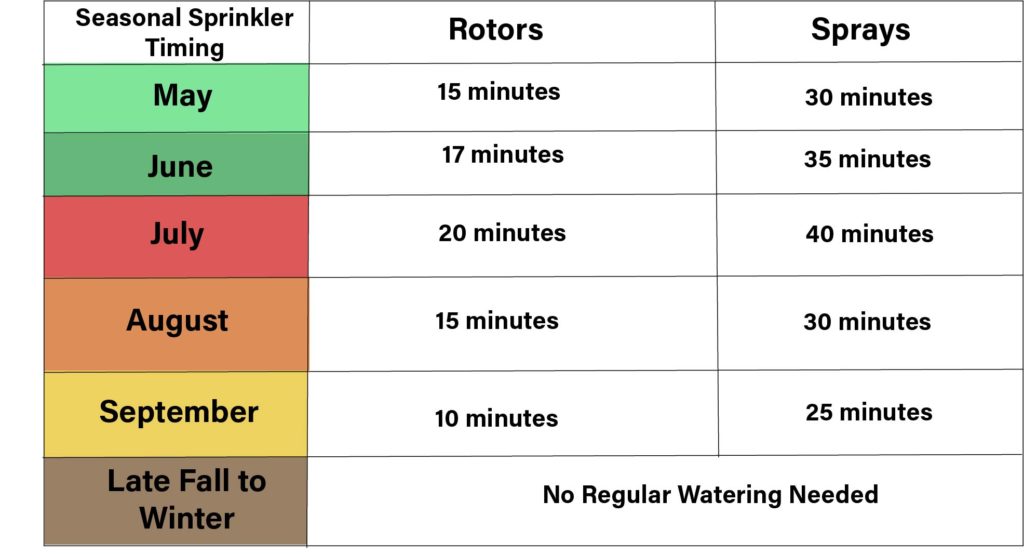 Don't Be Afraid To Make Changes
For those of you who are reading this and thinking to yourself, "I have never changed the run-time on my sprinklers; they have always just run for the same amount of time regardless of the season! I don't even know how to change them. I'm afraid I break something or mess them up somehow!" You don't have to worry! There are solutions that make changing the run times simple!
1. Know How The Controller Works
In order to properly adjust the sprinkler run times monthly, you will need to know how the controller works. Begin by reading the owner's manual for your sprinkler controller. If you don't have a manual and cannot locate one, it may be time to upgrade your controller to a digital internet-enabled controller. These controllers are the absolute easiest to set up and manage because they have a user-friendly online program for managing all the features and functions of your sprinkler system. There are a handful of different types of controllers you can get such as Rain Machine, Rain Bird, and Hunter. The good news is that these new-age controllers are simple to install and surprisingly affordable! It's one investment that will pay for itself with the money and time it saves you! Click here to upgrade to WiFi or smart controller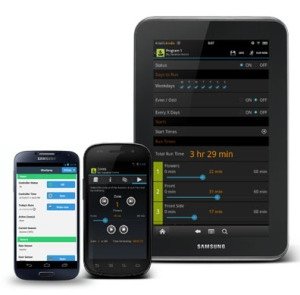 2. Avoid Watering When You Don't Have To
If you live in a place where drought conditions prevent you from frequent watering or you have to pay for the water you use, it's best to NOT water during the daytime hours of the day (10 am through 6 pm). The sun is just so hot during these hours that much of the water you apply to the lawn will never even reach the plants due to the high rate of evaporation.