Never Water Your Potted Plants By Hand Again
This article explains how to install an irrigation drip system on residential potted plants. How wonderful would it be to never have to worry about watering your potted plants ever again? Those beautiful flowers on your window seal can stay alive without you ever remembering to water them by installing drip irrigation.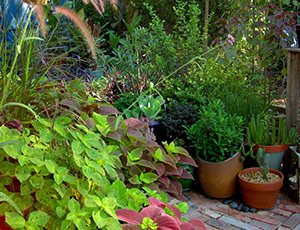 Because drip irrigation lines are small, you can easily snake them around objects and hide them from view. Your patio plants will stay healthy and free from disease with drip irrigation running to them.
How to Install: Residential Potted Plants
1/2″ Polyethylene pipe, this will feed all of the flower pots
From the 1/2″ mainline you will run a section of 1/4″ solid tubing to each flower pot. Poke a hole in the 1/2″ tubing with a hole punch. Insert a 1/4″ barbed connector into the hole in the 1/2″ tubing. Connect the 1/4″ solid tubing to the other end of the connector that is attached to the 1/2″ tubing.
Run a length of 1/4″ solid tubing into the pot. At this point, you have different choices depending upon preference: adjustable stream bubbler, drip emitter tubing, or a drip emitter with a stake
Click here to shop for drip irrigation supplies at the Sprinkler Warehouse
Advantages: Residential Potted Plants
Fewer weeds
Reduces maintenance requirements
Saves up to 70% of your water
Note: Don't add too many drip emitters as this can reduce the overall delivery capabilities of your system.