Create A Landscape Design Using A Sprinkler System
Table Of Contents:
Set The Intention For Planning Landscaping
Whether you're revamping your landscape design or planning to install a sprinkler system around your yard – your landscape plan can be a lot cheaper than most home renovations. Taking care of your yard makes for a great investment since plants and flower gardens never go out of style. At least not like interior design where trends go in and out with the seasons.
Before the design process begins, it's important to set some time aside to define the vision for your landscape plans. Will your yard be the main location for hosting outdoors? Do you plan to plant fresh flowers, a garden bed, or a vegetable garden? Do you have smaller children or pets? All of these are important to keep in mind when thinking about your landscape plan.
Get to know your yard better by walking the perimeter and noting the existing features and the ones you want to change. What elements do you want to capture and highlight in the architecture of your home? Your landscape design has the ability to accent these features in a positive light. Know Your Yard
Before You Start Planning
Sketching out your design on graph paper or in a digital app allows you to have a visual representation of your house and site. Some key factors to consider when sketching out your project is your plant hardiness zone determined by the USDA. This will help you determine what plants, flowers, trees, shrubs will thrive best in your area. Review which local plants and flowers are full sun, partial shade, deep shade, etc.
The best landscape design will promote proper water flow away from your home and efficiently towards other areas of your yard. Before making design decisions, you should become familiar with the topography of your site. Topography refers to the study of land surfaces and their foundation. If you take a look at the national topographic map issued by USGS, you can visualize your property from a birds-eye view. This can help determine if your land is on a slope, perhaps a flood zone, or you may need to know the elevation of your property.
Drawing Your Property
Now is the fun part, draw your property on paper. Begin with fixed features such as your home, driveway, patio. Don't forget other hard features like walkways, fences, and other boundaries that are important to note on paper. Next, identify trees that are already planted and other major obstacles. Identify any slopes as this will be important when installing an in-ground sprinkler system. Then, illustrate any ground cover, grass, existing flower bed, and other landscaping that you would like to keep. Lastly, point out the size and location of the water meter or mainline. This is crucial when planning your sprinkler system into your landscape plans.
A great tip to remember is to make several copies of the blueprint you've just sketched out for future reference. Now that you have everything mapped out, you're ready to install your sprinkler system which will create a more even water flow throughout your landscape plans.
Another benefit to drawing your property is that when you create a landscape design you can also set your budget for the project. This will ensure that you don't overbuy materials that you may not need.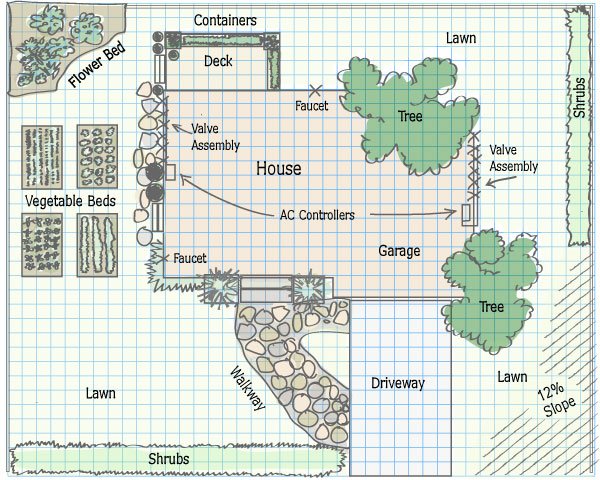 7 Key Elements Of Landscaping
Texture
Balance
Simplicity
Color
Proportion
Form
Scale
Choosing The Right Greenery
When selecting fresh new plants, flowers, and trees to install consider the location of your garden. Does the space receive full, partial, or no shade at all? This ensures the longevity of your landscape plan that you've put a lot of time into designing and money spent on the project. Also, your landscape has the ability to accent features in your home, creating an ambiance, blocking noise out, improving energy efficiency, or simply adding privacy. For example, you may plant a large shrub in front of a bedroom window to ensure privacy and protection. A large tree can help reduce heating by offering shade and promote energy efficiency.
Other elements to consider are lighting and hardscape features. The right landscape lighting has the potential to bring your outdoor space to life especially on those warm summer nights when the sun is setting and you're able to gather outside. It creates warmth, livability, and personality.
Installing An In-Ground Sprinkler System
An efficient irrigation system provides uniform coverage throughout your property. Your landscape design is divided into sections, also known as zones or stations. In order to determine how many watering zones you'll need to reference the drawing of your property from above.
Zones help distinguish specific areas and how they need to be irrigated. For example, your grass has different watering requirements than perhaps your flower bed. Thus, a zone allows the user to customize the duration of watering for each section of the lawn. Whether you need two watering zones or more depends on the type of controller you purchase.
A controller is the brain of the sprinkler system as it tells each zone when to water and for how long. Some controllers [or timers] have the capability to host up to 24 zones. You can also customize each zone with sprinkler heads. They can be tailored per zone as their radius and rotation can be adjusted. The flow control valves [often sold separately] allow the sprinkler to adjust its radius to a specific pattern and to fine-tune water output for a better uniform overage.
FAQ
What Should My Landscape Plans Include?
A successful landscape plan should include natural elements like flowers, grass, trees. Hardscape to add texture. The right lighting to highlight features.
What Is The Best Garden Sprinkler For My Landscape Design?
There are many ways sprinklers adjust. If you already have an in-ground system in your landscape plan, you can purchase a drip kit. You can learn more about pop-up sprinkler to drip conversion here.
How Do I Plan My Landscape Layout?
Begin with graph paper and draw out your property and fixed features. Research your hardiness zone to better understand climate and to best find greenery that will thrive. Create a budget so that you don't buy materials you don't need. The most successful landscape design are those that are planned out.
Related Articles To Help Plan Your Landscape
A New Year, A New Lawn
New Landscape Will Save You Money
How To Determine Zone Run Time Using Evaporation Data
How To Conserve Water With An Irrigation System
Adjust Your Watering Schedule By Season
How To Create A Backyard Oasis
Related Products