Say Goodbye To Watering Your Plants By Hand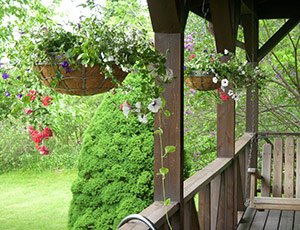 This article is a drip irrigation installation guide for your hanging baskets. Instead of manually watering all of your hanging baskets, you can install drip lines to each pot. Then set the timer and essentially forget about it. Tools such as foggers are great for irrigating hanging baskets and look cleaner and more organized than throwing in a few random hoses. We can help assist you with any preferences you may have.
How to Install: Hanging Baskets Drip Installation Guide
Use a perm lock elbow, and attach it to a vertical hose on both sides
Attach the hose to the structure that is being used to hang your pots
Horizontal 1/4″ tubing will be long enough to reach all of the hanging baskets then use an end lock tube cap to seal the end off
Use staples to hold all tubes in place, and install a dripper to each hanging basket with a ridged riser and an adjustable dripper
Advantages of Drip Irrigation Installation for Hanging Baskets
Fewer weeds
Reduces maintenance requirements
Saves up to 70% of your water
Click here to shop for all the drip irrigation products you'll need to install your drip irrigation system into hanging baskets. This link includes drip irrigation kits, controllers, pressure regulators, tubing, and more!