Tips For Conserving Water In Your Yard
Water, It's Finite
This article discusses how to conserve water with an irrigation system. Throughout the article are links that will direct you to more sprinkler school discussions that explain the topic further. Conserving water is smart for the planet and for your budget. Also, by watering precisely where water is needed, you can keep plants healthier and avoid mold and fungus growth.
Here are some simple irrigation tips that you can use to save water:
Always use "head-to-head coverage" in your irrigation system. Learn more about head-to-head coverage in "How To Space Rotors And Sprays"
Keep the soil consistently moist but not wet. This eliminates runoff and ensures your plants a steady supply of water.
Do not water at night – water will sit on the lawn and may cause disease.
Water in the early morning – evaporation is minimized and the lawn utilizes the most water.
Do not water midday – evaporation loss is at its greatest.
Create multiple programs for your irrigation system this allows you to water most efficiently.
Install a rain sensor it will prevent the system from running during rain.
Use drip irrigation in flower beds – it saves substantial amounts of water. Learn more about drip irrigation in "Drip Tubing Basics and Drip Irrigation System Basics"
Reduce run times for zones in the shade.
Allow grass to grow before mowing – this reduces water usage.
Practice "grass cycling" this reduces evaporation water loss from the lawn, while reducing the need for fertilizer.
Sharpen your mower blade – sharp blades are easier on the grass and save water.
De-thatch your lawn – water will get to the roots faster and evaporate less.
Aerate your lawn – it prevents soil compaction and allows water to soak in faster.
Keep plants with different watering needs on different zones trees vs. lawn, etc.
Plant native species, native plants do better and need less special care than exotics.
Mulch flowerbeds and trees, it reduces evaporation and controls weeds. Learn more about Conserving Water Using Mulch And The Water-Saving Benefits Of Mulch.
Know your soil type, the three basic types: sand, loam, and clay require different watering schedules for optimal results. Learn more about How to Determine Your Soil Type.
Purchase irrigation products designed to conserve water.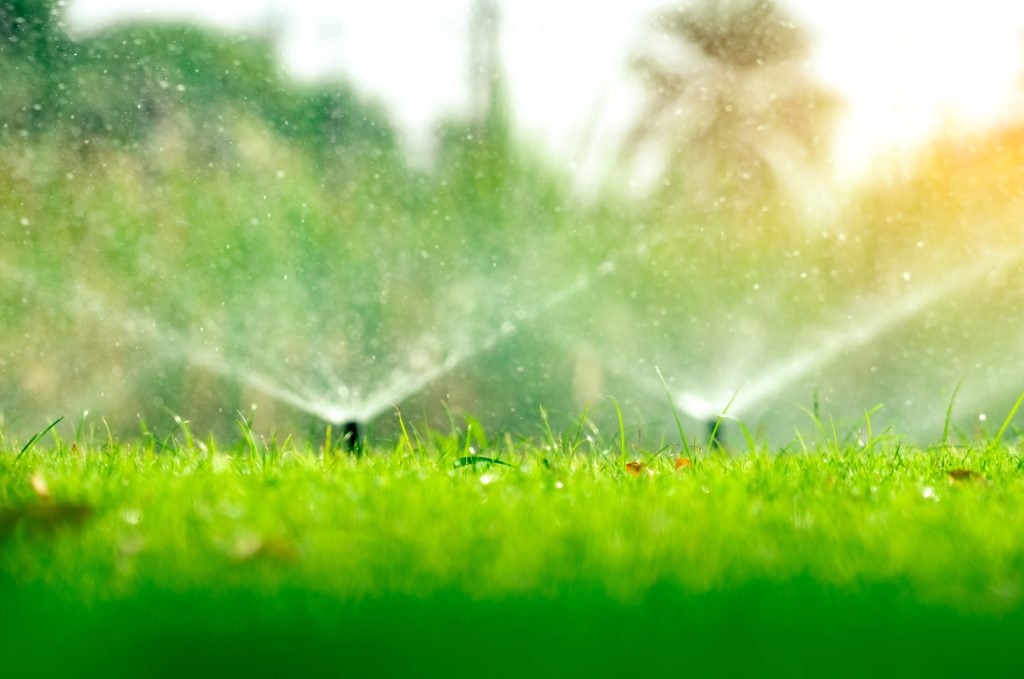 Conserve Water With An Irrigation System By Shopping These Products And More!
Sprinkler Heads: Sprinkler heads come in a variety of sizes, shapes, models, and brands but most of these variations fit into four main categories: Pop-up, Impact rotors, Gear-Driven rotors, and Large Turf rotors. An overview of the different types and uses of spray heads, rotors, and impact sprinklers.
Controllers & Sensors: Sprinkler Warehouse offers you a wide range of indoor and outdoor sprinkler and irrigation timers from a variety of leading irrigation manufacturers, including Rain Bird, K-Rain, Weathermatic, Hunter, Toro, and Irritrol.
All About Lawn Irrigation: Sprinkler Warehouse offers a huge selection of irrigation and sprinkler system parts from all of the name brands in the irrigation industry. Hunter, Rain Bird, Irritrol, Toro, Weathermatic, and many more are found right here on our online Sprinkler System and Irrigation Parts Store!
Quick Start Drip Irrigation With Drip Kits
Shop Rain Sensors For Smart Watering